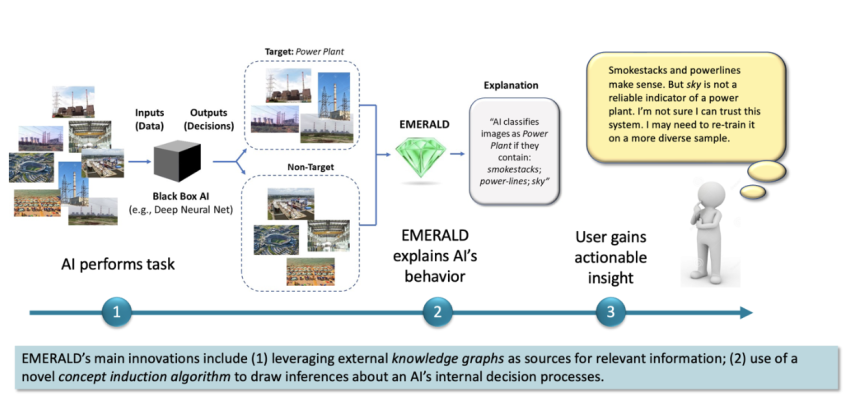 Body
Dayton, Ohio–Kairos Research is a small business comprised of highly skilled researchers specializing in natural and artificial cognition. Their core mission is to bridge the gap between humans and AI by leveraging insights from cognitive science and AI research. They create innovative technologies that optimize the strengths of human and machine cognition, viewing AI as a teammate rather than a tool. Undertaking high-risk, high-reward research at the intersection of human and machine intelligence, Kairos Research serves clients across industry, academia, and government sectors.  
Kairos Research emerged from the Ohio Federal Research Network-funded "Human-Centered Big Data (HCBD)" project, conducted between September 2016 and August 2019. During the project, the Principal Investigator for HCBD, Dr. Brandon "Brad" Minnery (then working for Wright State University), realized that the increasingly widespread adoption of new AI-based technologies would require equally innovative approaches for optimizing human-AI collaboration. This insight inspired him to start his own company, Kairos Research, to further explore these challenges. 
"I saw that the problems we were attempting to solve in HCBD were bigger than we could tackle in a single project," said Dr. Minnery, CEO, Kairos Research. "Indeed, there were strong signals at the time that many government agencies and commercial companies were recognizing the need to make AI systems more transparent and usable." 
With a focus on "explainable AI," HCBD aimed to enhance the trustworthiness and interpretability of "black box" AI algorithms. Innovative outcomes included algorithms for explaining the decisions of an AI-based image classifier, as well as tools for visualizing the decision outputs of an AI, such as a deep neural network. By addressing the need for transparency in critical decision-making contexts, the HCBD project paved the way for the broader adoption of AI in personal, financial, safety, and security matters.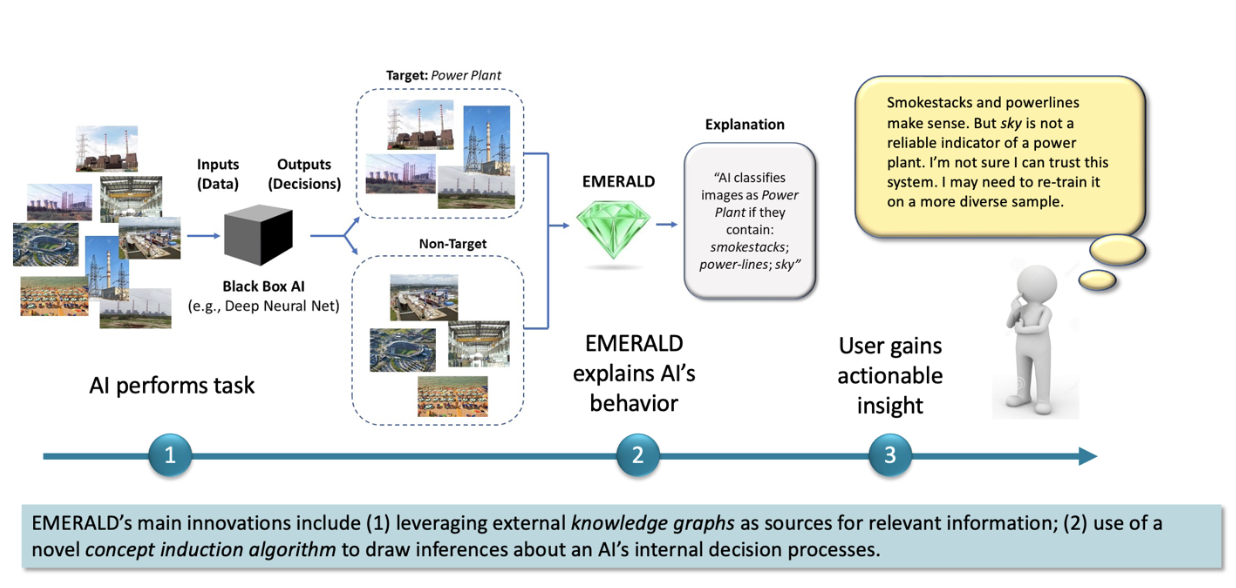 A high-level illustration of the HCBD concept (referred to as EMERALD, which is also the name the project team gave to its HCBD-related follow-on Air Force STTR project). 
"AI and machine learning algorithms are increasingly used to make life-impacting decisions, from deciding who should qualify for a loan to who gets a coveted job interview," said Dr. Minnery. "As a consequence, there is a critical need for transparency and explainability to enable trust in the AI's decisions, especially when so much is at stake. With HCBD, we focused on solving this problem using a unique approach pioneered by one of our collaborators that leverages a supporting technology called "knowledge graphs" in conjunction with a novel inference algorithm. That was our secret sauce." 
The project's success led to the establishment of a strong partnership between the then newly established Kairos team and the Air Force Research Laboratory, specifically in the fields of human-centered data analytics and human performance data modeling. Additionally, the project received federal funding and paved the way for the founding of a new company based in Fairborn, OH.  
As a testament to their achievements, Kairos has been consistently awarded follow-on funding for their work on HCBD and has utilized their connections established through the OFRN-funded HCBD project to secure further research contracts. Here are a couple examples: 
1. The "Explainable Machine Reasoning through the Application of Linked Data (EMERALD)" project. This Air Force STTR project, which included both Phase I ($25,000) and Phase II ($375,000) awards, provided additional validation of the HCBD concept. Conducted in collaboration with Kansas State University, EMERALD showed that human operators were able to use the HCBD explanation technology to predict an AI's decisions and to anticipate its likely errors. 
"Our success on the OFRN HCBD project was a catalyst in our winning this award," said Dr. Minnery, "and it established the foundation for our growing portfolio of AFRL-funded research." 
2. The "Recovering the Sources of Individual Differences Unduly named Errors (ReSIDUE)" project. This $1 million project was conducted in partnership with Wright State University under the Defense Advanced Research Projects Agency's (DARPA's) "Teaching AI to Leverage Overlooked Residuals (TAILOR)" program. The ReSIDUE project applied HCBD's explainability algorithms to analyze diverse human performance datasets ranging from high-throughput genetic sequencing data to datasets involving intelligence forecasting. 
"This project was a great example of how the research collaborations forged under the original HCBD project enabled us to obtain additional federal research funding for Ohio-based universities and companies," said Dr. Minnery. 
Kairos Research is now developing commercial products based on its federally funded research, including commercializing technologies developed under multiple SBIR and STTR awards. Kairos employs eight employees and aims to expand its team in 2023.   
"We're excited to be in Ohio," said Dr. Minnery. "We like working with our neighbors here; whenever we can, we do so. While research will always be our foundation, our goal is to diversify and grow beyond being an R&D services company and explore customers beyond the U.S. Air Force and the Department of Defense." 
### 
About Parallax Advanced Research  
Parallax Advanced Research is a 501(c)(3) private nonprofit research institute that tackles global challenges through strategic partnerships with government, industry, and academia. It accelerates innovation, addresses critical global issues, and develops groundbreaking ideas with its partners. With offices in Ohio and Virginia, Parallax aims to deliver new solutions and speed them to market. In 2023, Parallax and the Ohio Aerospace Institute (OAI) formed a collaborative affiliation to drive innovation and technological advancements in Ohio and for the Nation. OAI, a wholly affiliated institute with Parallax, fosters collaborations between universities, aerospace industries, and government organizations. It receives support from the Ohio Government and manages aerospace research, education, and workforce development projects worth over $300 million. OAI plays a pivotal role in advancing the aerospace industry in Ohio and the nation. More information about both organizations can be found at https://parallaxresearch.org/ and https://oai.org/. 
About the Ohio Federal Research Network (OFRN)   
The Ohio Federal Research Network has the mission to stimulate Ohio's innovation economy by building statewide university-industry research collaborations that meet the requirements of Ohio's federal laboratories, resulting in the creation of technologies that drive job growth for the State of Ohio. The OFRN is a program managed by Parallax Advanced Research in collaboration with The Ohio State University and is funded by the Ohio Department of Higher Education. https://ohiofrn.org/