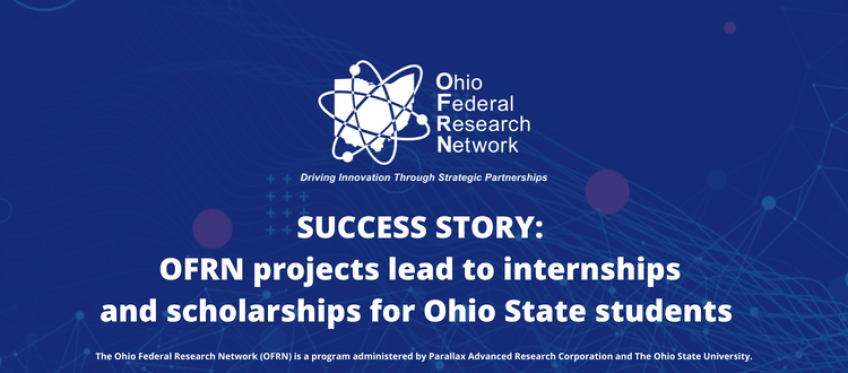 Body
Columbus, Ohio – Two engineering students at The Ohio State University won highly competitive internships and scholarships stemming from their work on two Ohio Federal Research Network (OFRN) funded projects. The two projects were: "Brushless Doubly-fed Machine and Drive Systems for Aviation Application," led by Principal Investigator and Ohio State Associate Professor of Electrical and Computer Engineering Dr. Julia Zhang; and "High Reliability, Low EMI, Wide Bandgap Power Conversion for Air & Space Applications," led by Miami University Assistant Professor of Electrical and Computer Engineering Dr. Mark Scott.  
Leveraging the state of Ohio's investment of $51.4 million, the OFRN has funded research projects spanning 21 universities and community colleges, and 97 small businesses throughout Ohio. These projects have, in turn, attracted more than $204 million in follow-on funding from both federal and corporate sponsors.   
Landing an Internship with Boeing  
Jeremiah Vannest, a graduate research associate in the Department of Electrical and Computer Engineering at Ohio State, worked with Prof. Zhang on the Round 3 project, providing help with simulations, development of finite element models, hardware setup, and tests. Due to his experience on the project, Vannest was selected by Boeing to do a 2022 summer internship in Seattle. 
Vannest learned about the Boeing internship while working at Center for High Performance Power Electronics (CHPPE) at Ohio State. "Certain industry sponsors have a membership to our lab. Part of the reason that Boeing and other industry partners joined CHPPE is because of our connections with the OFRN and the Air Force Research Laboratory (AFRL). Boeing was specifically interested in the possible applications of the results of the OFRN project. My involvement in the project generated their interest in working more with me and was the driving factor behind my securing this internship," said Vannest. 
Following his graduation, Vannest aims to work in the aviation industry to develop advanced skills in the field as well as connections in the industry that, he feels, this project initiated for him. Eventually, he would like to return to academia to teach and help future students access similar opportunities as he had while working on the OFRN project. 
Leveraging the SMART Scholarship Program 
Luke Chen, who is also a graduate research associate at Ohio State's Department of Electrical and Computer Engineering, has worked on both the Round 3 and Round 5 projects. His research is focused on electric machine design and controls, and drive systems.  
Chen was awarded the Science, Mathematics, and Research for Transformation (SMART) scholarship, a DoD program for undergraduate, master's, and doctoral students currently pursuing a degree in one of the 21 STEM disciplines. SMART scholars receive full tuition, annual stipends, internships, and guaranteed employment with the DoD after graduation. 
The groundwork for Luke receiving this scholarship started during the OFRN Round 3 project, for which Dr. Zhang acquired substantial support from the Air Force Research Laboratory (AFRL) and forged critical connections within the agency. Through networking and the Round 5 project, Chen was introduced to Mr. Kevin Yost, Research Engineer at government researchers at AFRL, who introduced him to the SMART Program. 
"All this wouldn't have happened without my involvement in the OFRN projects that not only gave me valuable skills but also made me a part of the huge professional network that Dr. Zhang has built over the years through her work on these projects," said Chen. He also added that the OFRN's presence during demonstrations attracts sponsors and industry partners that eventually leads to future projects and applicants selected for the OFRN program.  
After completing his PhD, Chen will work at the AFRL for at least five years, contributing to scientific innovation in Ohio. 
OFRN's Impact on Student Success  
OFRN fosters research and innovation not just by facilitating beneficial networks and funding but also through supporting researchers and enabling comprehensive student learning.  
"When they go out to do interviews with companies or labs funded by the government, they have the top-notch, hands-on experience with high-power systems. For example, one of the PhD students worked on the OFRN Round 3 project and graduated in 2020 and was hired by Milwaukee Tools and immediately built a new high-speed dynamometer system for the company," said Zhang. 
The OFRN approach has equipped Ohio-wide research talent and assets to connect, align, collaborate, and transition solutions to Ohio companies since 2014. Stemming from this support, Ohio universities collaborate on joint proposal efforts totaling over $350 million through the Air Force Office of Scientific Research, AFRL, the Defense Advanced Research Projects Agency, the Army Research Office, NASA, and the Office of Naval Research. These proposals bring new, critical research dollars to Ohio to support undergraduate and graduate student education and training and help keep Ohio's STEM talent home.  
Learn more about our R&D projects at Ohio Federal Research Network R&D Projects | Ohio Federal Research Network (ohiofrn.org) 
### 
About Parallax Advanced Research 
Parallax is a 501(c)(3) nonprofit that tackles global challenges by accelerating innovation and developing technology and solutions through strategic partnerships with government, industry, and academia across Ohio and the Nation. Together with academia, Parallax accelerates innovation that leads to breakthroughs. Together with the government, Parallax tackles critical global challenges and delivers new solutions. Together with the industry, Parallax develops groundbreaking ideas and speeds them to market. 
About the OFRN 
The OFRN has the mission to stimulate Ohio's innovation economy by building statewide university/industry research collaborations that meet the requirements of Ohio's federal laboratories, resulting in the creation of technologies that drive job growth for the State of Ohio.