Driving Ohio's Federal R&

D Competitiveness

​​​​​​​
Driven by the requirements of our five government partners (Air Force Research Laboratory, Naval Medical Research Unit Dayton, National Air and Space Intelligence Center, National Aeronautical and Space Administration's Glenn Research Center, and Ohio National Guard), the OFRN investments are growing federal research spending in Ohio; advancing research initiatives aimed at emerging national security requirements; enhancing university collaborations with Ohio-based industry to engage in innovation; creating and retaining jobs in Ohio, and having a broad and significant impact on Ohio's economy.
The OFRN program has competitively allocated over $51.4 million across 5 R&D project rounds, resulting in 35 research projects led by industry-academic collaborative teams throughout Ohio. The OFRN collaborators include 21 colleges and universities and 97 businesses throughout Ohio. Additionally, the OFRN R&D projects resulted in 13 Ohio companies spread across Ohio.
The OFRN-funded projects have collectively been awarded $355.7 million. This is broken down by $34.7 million in industry-sponsored research, $314.9 million in federal funding, and $6.1 million in other (state, local, etc.) funding. The total follow-on funding awarded in 2022 is $150,863,383.
Furthermore, OFRN's economic impact is significant in terms of job creation. Specifically, the OFRN created 349 jobs through its R&D investments, 96 jobs were retained, and +1,167* indirect jobs were created. *Based on the Economic Policy Institute's analysis of the Bureau of Labor Statistics data. These OFRN-funded projects also resulted in 12 IPs with 2 pending.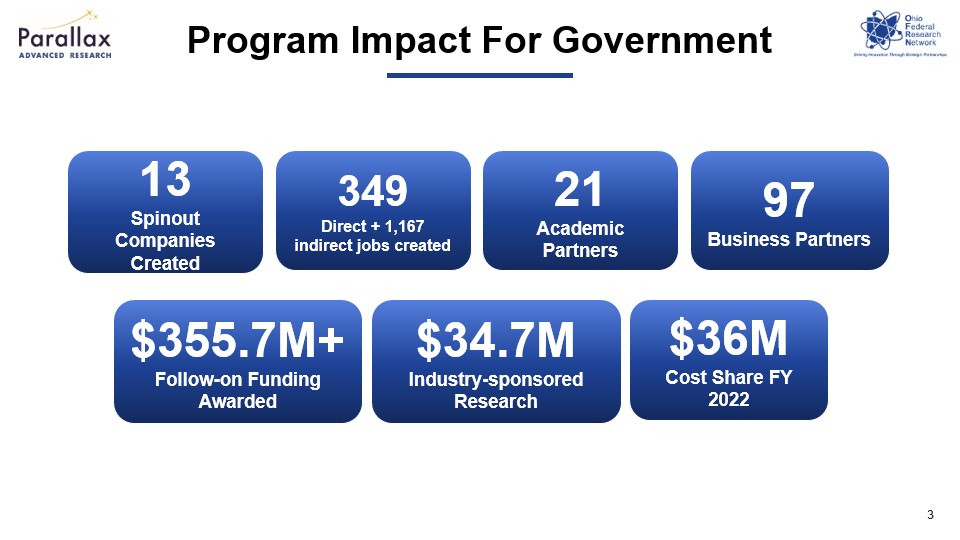 ---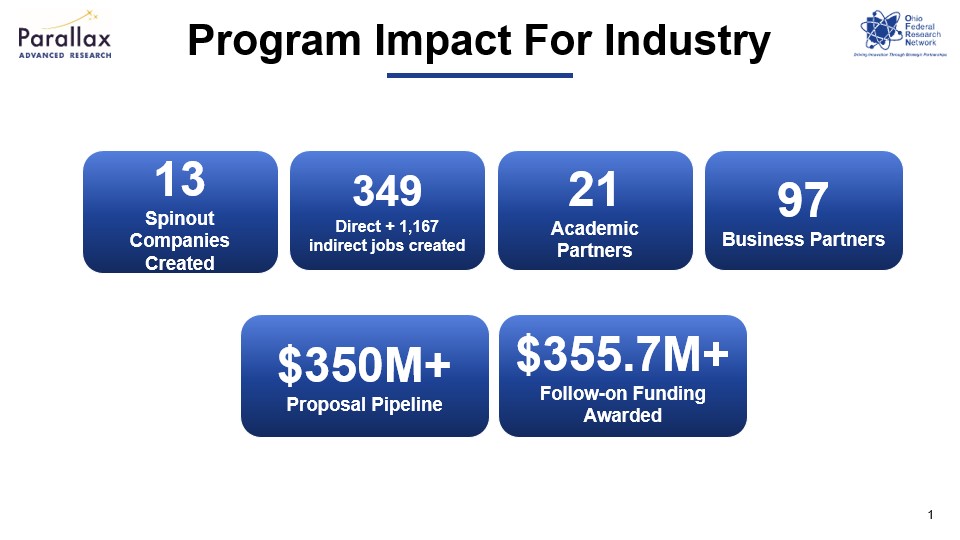 ---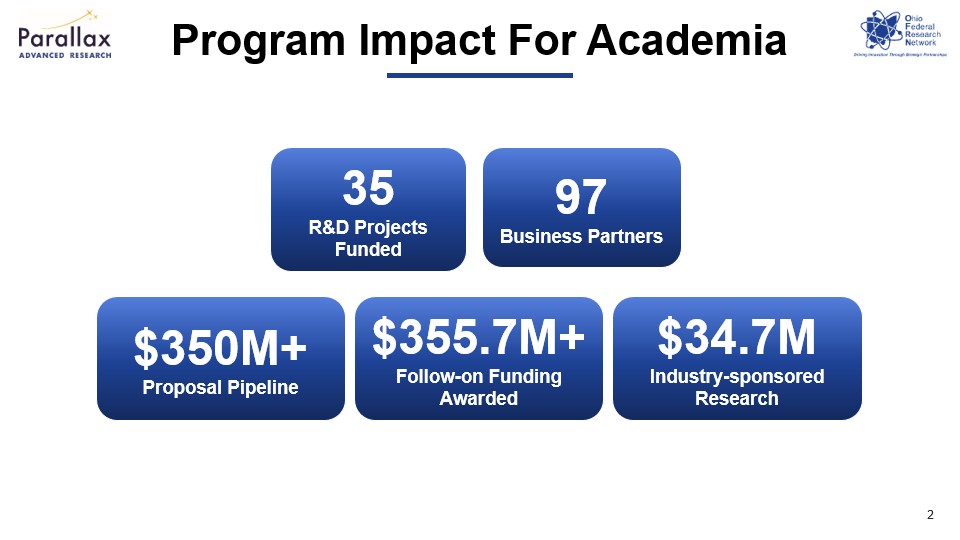 ---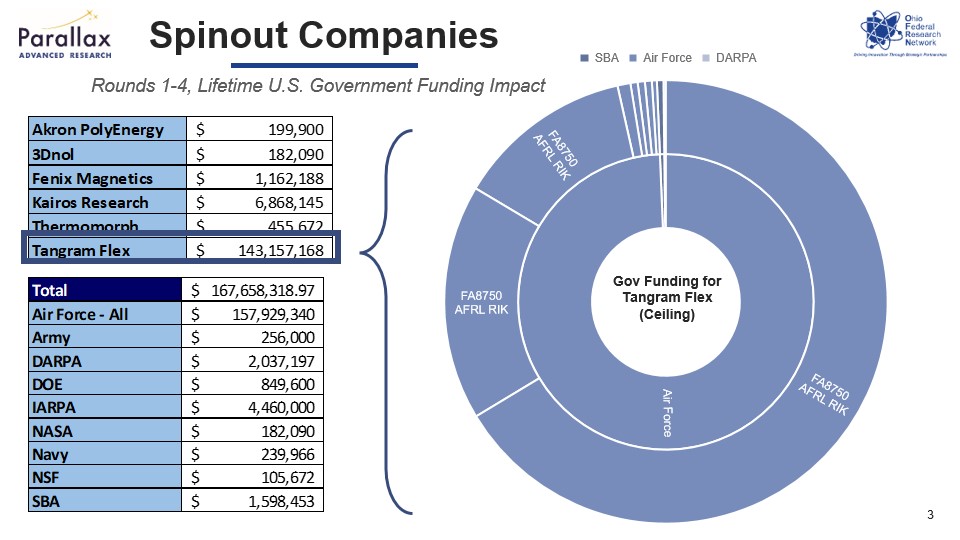 Supporting small businesses and academia on their Small Business Innovation Research and Technology Transfer (SBIR/STTR) application journeys
The SBIR and STTR programs are designed to encourage U.S. small businesses to engage in federal research/research and development with the potential for commercialization. Through a competitive awards-based program, SBIR and STTR enable small businesses to explore their technological potential. The STTR program is a collaboration between small businesses and nonprofit research institutions. STTR's most important role is to bridge the gap between the performance of basic science and the commercialization of resulting innovations. The program requires the small business to formally collaborate with a research institution in Phase I and Phase II. The Ohio Federal Research Network (OFRN) provides its network partners, specifically small business and academic researchers and innovators, free SBIR/STTR education, training, and proposal process navigation services, including team matchmaking and collaboration events, throughout the proposal development journey. The following are OFRN's success metrics supporting its network of academic and small business partners in Ohio in their pursuit of SBIR/STTR funding.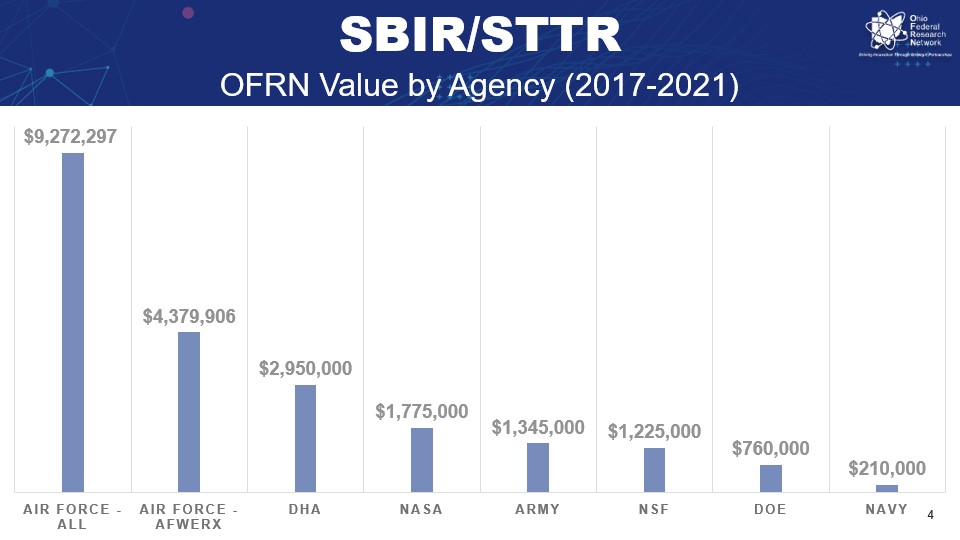 ---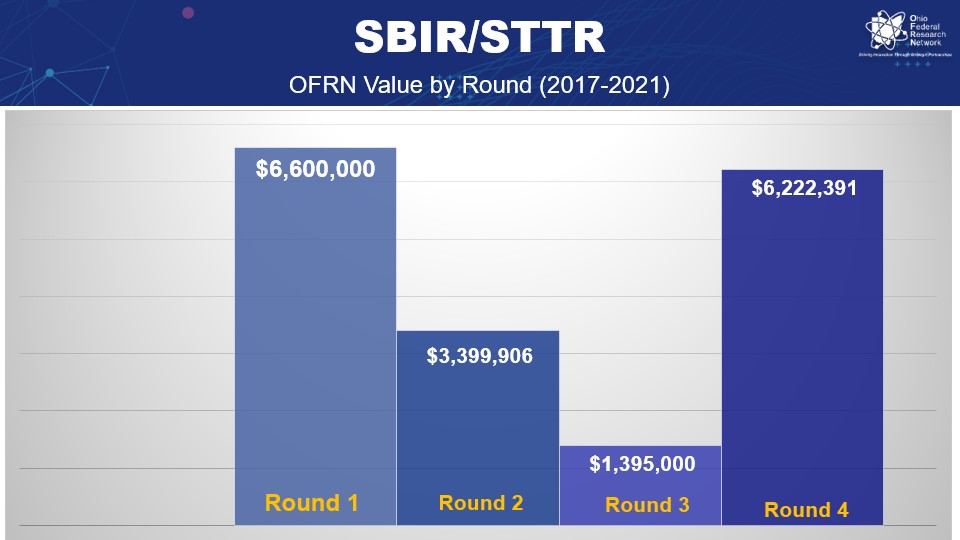 Download the Ohio Federal Research Network Annual Reports here: