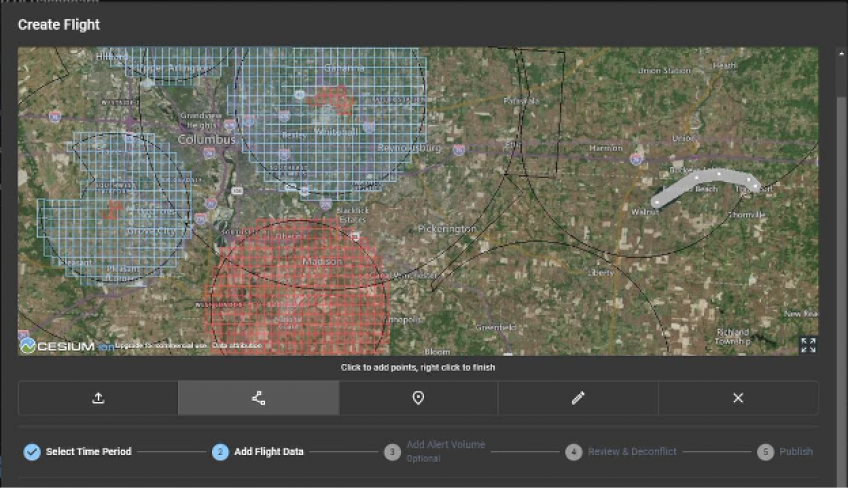 Body
Ohio Department of Transportation leverages CAL's Unmanned Aircraft System Traffic Management platform for statewide operations 
Columbus, OH – CAL Analytics was selected by the Ohio Department of Transportation (ODOT) to provide statewide Uncrewed Aircraft System (UAS) operation services using its UAS Service Supplier (USS) platform. This agreement is the culmination of a multi-year build-up of CAL Analytics' Unmanned Aircraft System Traffic Management (UTM) service platform that started in 2019 with a $1.4M award from the Ohio Federal Research Network (OFRN) to develop an interoperable and resilient contingency management system for Ohio UAS Operations. Through this work, Ohio continues its leadership in the innovation, research, development, and utilization of UAS technology. CAL Analytics' USS will provide ODOT a wide array of services, including a centralized monitoring and management capability of statewide infrastructure, communications, navigation, and airspace surveillance equipment critical for UAS Beyond Visual Line-of-Sight operations. Beyond Visual Line-of-Sight operations are operations flown beyond the pilot's line of sight. Additionally, CAL Analytics will provide ODOT with enhanced operational planning and situational awareness for its extensive statewide utilization of UAS for Visual Line-of-Sight operations.

"Ohio, and ODOT in particular, has been at the forefront of embracing UAS technology, so we are very excited to have our USS platform provide the basis for statewide utilization," said Dr. Sean Calhoun, managing director of CAL Analytics. "We have focused our system development on making sure our platform provides a host of performance and safety related features. Our work with NASA and integrating our health and integrity monitoring capabilities into our deployments will ensure statewide systems can scale in a robust and safe way." 

"CAL Analytics' technology will help us support our uncrewed aircraft operations at the next level," said Rich Fox, UAS director, Ohio UAS Center for ODOT. "Not only will our remote pilots use it for situational awareness and safety, but also we are exploring the ability to expand this service to first responders across the state, to better coordinate air support during an emergency." 

"This agreement between CAL Analytics and ODOT is a big win for the State of Ohio and the UAS ecosystem," said Maj Gen (Ret.) Mark Bartman, senior advisor to Parallax Advanced Research and OFRN. "Ohio is a leader in Advanced Air Mobility UAS operations, and we, at OFRN, are proud to have played a part in supporting new technology and innovation development to support this important initiative."
### 
About CAL Analytics  
CAL Analytics is a small business focusing on the development of aviation and autonomous systems. Located in Dayton, OH and founded in 2010, CAL has expertise in navigation systems, remote sensing, signal analysis, and information fusion. CAL is a leader in UAS Traffic Management and Advanced Air Mobility technology, offering airspace management, mission management, detect and avoid, and in-time system-wide safety assurance solutions. Our mission is to provide agile and rigorous approaches to bring new technologies to the world.  
About Parallax Advanced Research   
Parallax is a 501(c)(3) nonprofit that tackles global challenges by accelerating innovation and developing technology and solutions through strategic partnerships with government, industry, and academia across Ohio and the Nation. Together with academia, Parallax accelerates innovation that leads to breakthroughs. Together with the government, Parallax tackles critical global challenges and delivers new solutions. Together with the industry, Parallax develops groundbreaking ideas and speeds them to market. Parallax now has offices in Cleveland Ohio, Beavercreek, Ohio and Arlington, Virginia. https://parallaxresearch.org/  
About the Ohio Federal Research Network 
The OFRN has the mission to stimulate Ohio's innovation economy by building statewide university-industry research collaborations that meet the requirements of Ohio's federal laboratories, resulting in the creation of technologies that drive job growth for the State of Ohio. The OFRN is a program managed by Parallax Advanced Research in collaboration with the Ohio State University and is funded by the Ohio Department of Higher Education. https://ohiofrn.org/  
OG image