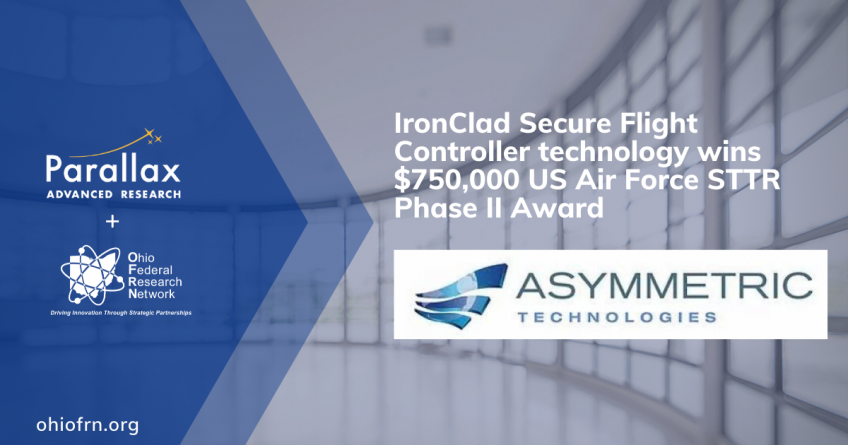 Body
For immediate release: October 12, 2021
Dublin, Ohio-- Asymmetric Technologies developed the IronClad Secure Flight Controller (SFC), which is a cyber-secure open-architecture flight controller for unmanned aircraft systems (UAS) with an on-board damage tolerant flight control and automated sense and avoid software suite.  The technology research and development were conducted in collaboration with The Ohio State University, Ohio University, Air Force Research Laboratory, and Lockheed Martin and funded by the Ohio Federal Research Network (OFRN). In July 2021, the U.S. Air Force Small Business Technology Transfer (STTR) program awarded Asymmetric Technologies a Phase II award worth $750,000.
Asymmetric Technologies had been developing the technology when the OFRN Round 4 solicitation launched. The OFRN is a program managed by Parallax Advanced Research in collaboration with Ohio State and funded by the Ohio Department of Higher Education. The OFRN funding leverages Ohio's unique aerospace assets to assist recipients in overcoming critical technical barriers and business challenges, to enable more widespread adoption of UASs into the national aerospace.
What differentiates IronClad SFC from other controllers is that it is cyber-secure.
"We wanted to add cutting-edge capabilities to IronClad to keep it relevant. With that purpose, we added distinct enhancements that, we felt, would make it a better flight controller for future use," said Asymmetric Technologies' President, Rob Hettler.
Through its collaboration with Ohio State, Asymmetric Technologies added damage-and-wear-tolerant flight controls to its flight controller.
"If the DoD is flying a fixed-wing drone and one of its control surfaces is compromised, typically the drone would just crash. With the capability that the team at Ohio State is developing, the control system will recognize an issue like damage or minor-to-moderate wear and tear and automatically reconfigure the control scheme on the drone. Through this capability, unless there is severe damage, the drone will be able to recover enough to come down for a safe landing," said Hettler.
The second enhanced capability being developed by Ohio University is a collision avoidance autonomy software package. Currently, ground-based systems use telemetry links to coordinate manned and unmanned aircraft systems flying in the same airspace and direct them to avoid collisions with one another.
"Our point is that it's not always feasible because a lot of times you lose that telemetry link, or decisions have to be made rapidly. This software rides on the IronClad control board and can take inputs from a wide variety of sensors, recognize a potential conflict, build a new path to avoid the conflict, and then resume its original path. It basically moves the decision making up to the drone itself wherever possible," said Hettler.
The third enhancement to IronClad SFC is the Physically Unclonable Function (PUF) technology, which is being developed by Ohio State. This technology plugs onto the IronClad control board and prevents cloning or hacking of encryption keys that could possibly lead to a UAS being remotely hijacked.
Asymmetric is integrating these enhancement modules with IronClad SFC to create its robust cyber-secure flight controller.
"There's a lot of work to get all three of those modules happy and playing nicely together on IronClad. Asymmetric plays the role of that system integrator," said Hettler.
Asymmetric is also working to integrate IronClad onto a Lockheed Martin UAS platform (the Condor XES) that enables flight testing and demonstrations for IronClad SFC.
For its U.S. Air Force STTR Phase II project, Asymmetric will focus on transferring the damage tolerant controller and collision avoidance software to different kinds of unmanned vehicles.
"At the end of this Phase II STTR, the scope of application for these technologies and our flight control solution is focused on implementations for electric vertical takeoff and landing (eVTOL) vehicles, like air taxis and larger aircraft that do unmanned delivery and carry passengers back and forth in a city. That's where the U.S. Air Force would like to see this phase of technology go," Hettler said.
When discussing the OFRN's role in the development of this innovation, Hettler said, "We took the technologies we were developing under the OFRN for fixed-wing UAS and submitted it for a U.S. Air Force STTR Phase I, which we won. Then we submitted a Phase II STTR proposal and won that as well. The OFRN's goal is to facilitate federal funding and commercial opportunities for innovative technologies in the State of Ohio, and this project is the perfect example of the realization of that goal. We have seen interest in our technology from clients like United States Special Operations Command (USSOCOM) and the U.S. Army. Without the OFRN funding, that would not have been possible."
###
About Parallax Advanced Research
Parallax is a 501(c)(3) nonprofit that tackles global challenges by accelerating innovation and developing technology and solutions through strategic partnerships with government, industry and academia across Ohio and the Nation. Together with academia, Parallax accelerates innovation that leads to new breakthroughs. Together with government, Parallax tackles critical global challenges and delivers new solutions. Together with industry, Parallax develops groundbreaking ideas and speeds them to market. 
About the OFRN
The OFRN has the mission to stimulate Ohio's innovation economy by building statewide university/industry research collaborations that meet the requirements of Ohio's federal laboratories, resulting in the creation of technologies that drive job growth for the State of Ohio. The OFRN is a program managed by Parallax Advanced Research in collaboration with The Ohio State University and funded by the Ohio Department of Higher Education.
About Asymmetric Technologies
Asymmetric Technologies is a group of experts in the rapid technology transitioning process. The Dublin, Ohio based company is a team of seasoned professionals, engineers, and technicians, who have consistently excelled at the rapid fielding of new technology. The team at Asymmetric Technologies is agile, deliberate, and understands how to effectively integrate and transition new technology in the current operational environment.
OG image