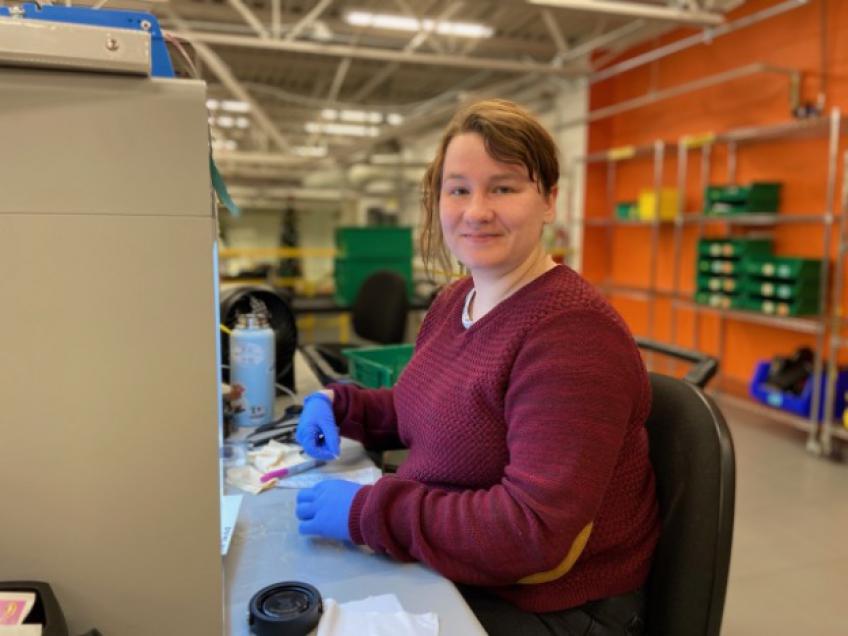 Body
AlphaMicron Inc. (AMI) is a global leader in liquid crystal photonics, and it provides enriching student-learning and internship experiences for Ohio's future STEM leaders. 
About AlphaMicron Inc.   
AlphaMicron, located in Kent, Ohio, spun out of the world-renowned Liquid Crystal Institute at Kent State University in the late 1990's with the goal of bridging the gap between scientific research and commercial products through vertical integration, from research and development to product design, prototyping, and manufacturing. It provides solution concepts, ISO compliant testing and production, and certified optical devices that feature innovative dynamic light management for both the government and private sectors. Its technology and products serve a broad range of industries including eyewear, automotive, architectural, and virtual/augmented reality. This has helped propel AMI to be a global leader in providing liquid crystal-based solutions for photonic applications and provide opportunities for its student interns to work on cutting edge products across a variety of disciplines.  
Currently, AMI is the lead on the "Electronically Dimmable Protective Eyewear" project, which is funded by the Ohio Federal Research Network (OFRN). In conjunction with the Air Force Research Laboratory in Dayton and a team of researchers from Bowling Green State University, Kent State University, Miami University, and Case Western Reserve University, the project aims to advance the performance of AMI's liquid crystal light control films and provide a solution that protects eyes and sensors from intense light radiation such as lasers. As part of its involvement in the OFRN program, AMI participates in OFRN's Student Experiential Engagement (SEE) program, which entails recruiting and hiring student interns to work on and learn throughout an OFRN-funded research and development project. Learn more about the OFRN SEE program on our services page, here. 
AMI's internship program  
Throughout the years, AMI has hosted many undergraduate and graduate student interns from Kent State University, University of Akron, Youngstown State, Miami of Ohio, and Case Western University on a variety of semester- and year-long STEM projects. Many of the current AMI members came through these internship programs that provide students with opportunities to work directly with PhD scientists on focused research areas. The technical nature of AMI gives the student interns the experience of working in a dynamic environment where they can pivot between projects and problems ranging from designing electronic circuits, computer programming, optical characterization, developing manufacturing methods, chemical synthesis, to technology production.  
"In collaboration with Ohio universities, AMI is positioned to provide quality internship experiences to STEM and non-STEM students," said Dr. Paul Luchette, director of material development, AlphaMicron Inc. "These internship opportunities are extremely important because they provide the student with valuable learning experiences in real work environments with professionals in their industry as well as it enables them to develop their skills, competencies, and work ethic. We're honored to collaborate with the OFRN and Ohio's various top-tier universities on these student experiential engagement and internship programs." 
Examples of AMI's student internship program and impacts 
Nick Sammarco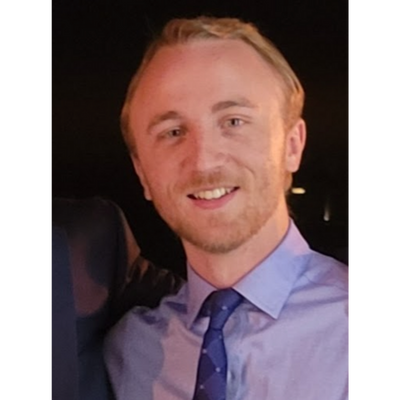 Nick Sammarco was a student intern from Youngstown State University for approximately five semesters. Sammarco played an integral role in setting up AMI's new 3D printing line and moved to a full-time AMI position after graduation. Sammarco worked at AMI for over two years on Science and Technology Transfer (STTR) projects and, briefly, on OFRN related projects, before taking a position at a Cleveland area company to be closer to his friends and family. The AMI internship enabled Sammarco to seamlessly transition to a job in Ohio after graduation and remain in Ohio as his career advanced.  
"During my internship, the skills and experience I gained from working at AMI have greatly benefitted my professional growth as an engineer," said Sammarco. "I was able to work on many interesting projects and learn a lot from my coworkers and bosses. I am very fortunate to have been a part of the great work life that AMI provided and am grateful for the tools they provided to allow me to achieve my career goals in the long run." 
Dalyanne Hernández Sánchez 
Dalyanne Hernández Sánchez, originally from San Juan, Puerto Rico, decided to transfer to Kent State University to pursue her undergraduate studies. While at Kent, she interned at AMI over the course of 2.5 years. Upon obtaining her Bachelor of Science in Chemistry with Honors, she elected to go to Ohio State University for graduate school out of a wide range of choices across the United States. While at AMI, she worked under Dr. Sukhomlinova to assist in the synthesis and formulation of dichroic dyes. Additionally, she worked with Dr. Luchette in the AMI optics lab to measure absorption, emission, and excitation spectrums for their materials after being subjected to different environmental testing methods (UV, thermal, and humidity). 
"My experience at AMI was extraordinary," said Hernández Sánchez. "I was extremely honored to get the opportunity to work alongside many professionals. Coming in with little to no experience, I was shown and taught everything I needed to know to be successful. AMI has a great sense of community to make you feel welcome and respected from the get-go. AMI's diversity and inclusivity made me realize that women and minorities are more than capable of obtaining PhD's and being successful in life. Throughout my undergraduate degree, I had amazing mentors that helped guide me to reach the success I've now had as a chemistry PhD student at Ohio State." 
Jacob Huff  
Jacob Huff studied electrical engineering at Miami of Ohio and was involved in both AMI's STTR program and the OFRN program. Huff interned at AMI for a summer after his senior year. He participated in a plus one program at Miami of Ohio where he spent his senior year as a combined undergraduate and graduate student. In his fifth year, he was a full graduate student. He graduated in May 2021 with his undergraduate degree and in May 2022 with his graduate degree. After graduation, Huff was hired as an electrical product engineer by Aptiv, located in Warren, Ohio, where he models and designs automotive, solid-state electrical centers. 
"I'm thankful for the collaboration between Miami University and AMI in the STTR and OFRN programs," said Huff. "Not only did I have an opportunity to visit and work for a summer at AMI's facility, but I also spent four semesters at Miami conducting research and designing electronic hardware for these programs. While at AMI, I met and worked with experts in various STEM fields. I experienced, for one of the first times, how leaders from multiple disciplines work together to invent and produce new solutions that address complex issues in today's technology-rich world. Now, as an engineer in the automotive industry, I am prepared to work with both STEM and non-STEM colleagues to design, validate, and troubleshoot several automotive technologies." 
Dr. Tianyi Guo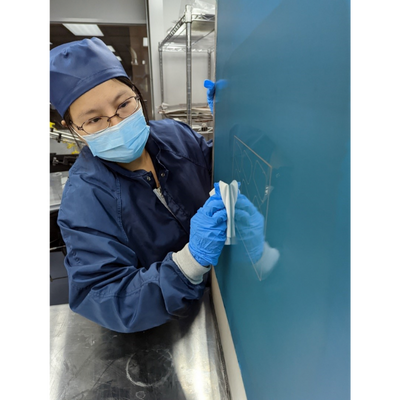 Tianyi Guo was a PhD student at the Kent State Liquid Crystal Institute during which she interned at AMI. At AMI, she worked on liquid crystal material optics and modeling as part of the STTR program and briefly conducted research for the OFRN-sponsored project "characterization and modeling of electronically dimmable liquid crystal cells." Her work on the project showcased her advanced skills and knowledge and, as a result, Dr. Guo was offered a full-time position at AMI in 2021.  
"During my internship, I was first impressed by the performance of dyes and liquid crystal mixtures," said Guo. "The dyes are state-of-the-art and are formulated and synthesized at AMI. I learned a lot from my AMI colleagues, from their vast knowledge of liquid crystals and dyes to their openness and willingness to share their knowledge–all of which attracted me to work full-time at AMI." 
Avanti Pandit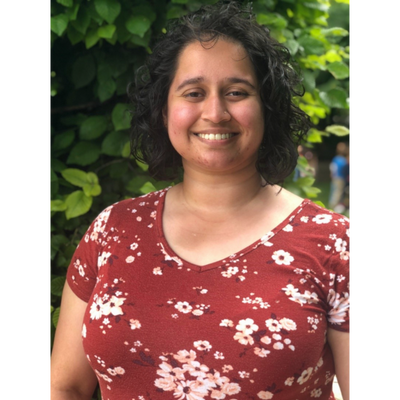 Avanti Pandit was a second year PhD student at the University of Akron, studying polymer science with a focus on chemical synthesis and characterization, when she joined AMI's internship program. She joined the internship opportunity to gain industry experience and see how research in industry is conducted. With AMI, Pandit had the opportunity to expand her research experience beyond her specialization and work on projects involving characterizing liquid crystal mixtures and additive crystals for optical properties.  
"My work involved looking at crystals under the microscope, which I had done a little bit before, but identifying crystals was very new to me," said Pandit. "I was identifying crystals that were aligned inside cells that had defects, which I thought was exciting. I knew absolutely nothing about that before. This experience helped me realize where I wanted to take my PhD research, and I'm grateful for the experience." 
Emily Wheeler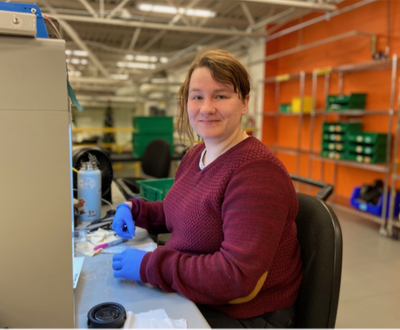 Not all AMI student interns hail from STEM fields. Emily Wheeler, for example, was a history major at Kent State University during which she also interned at AMI. After graduation, she was hired full-time to the AMI team, to manage quality control for AMI's eyewear product lines. 
"My time at AMI has been invaluable," said Wheeler. "I came to AMI with no manufacturing experience and no STEM background, but despite that I rose from a low position on the production floor to a higher role with more responsibilities. Through my work at AMI, I got to do things I never did before, such as performing quality testing, recording data, and taking measurements. I had always loved science as a kid but, as I got older, it never felt like an attainable career for me, so working at AMI in a STEM environment fulfilled that dream for me. I have grown and learned so much about myself as well as about management and quality assurance. Under excellent leadership, I have learned how to balance, delegate, and be an effective and efficient quality manager. I will always be grateful for my years spent at AMI." 
In collaboration with Ohio universities, AMI is positioned to provide quality internship experiences to STEM and non-STEM students. These internship opportunities provide the student with valuable learning experiences in real work environments with professionals in their industry as well as it enables them to develop their skills, competencies, and work ethic. The OFRN is proud to collaborate with AMI and Ohio's top-tier universities through its SEE program. 
### 
About Parallax Advanced Research  
Parallax is a 501(c)(3) nonprofit that tackles global challenges by accelerating innovation and developing technology and solutions through strategic partnerships with government, industry, and academia across Ohio and the Nation. Together with academia, Parallax accelerates innovation that leads to breakthroughs. Together with the government, Parallax tackles critical global challenges and delivers new solutions. Together with the industry, Parallax develops groundbreaking ideas and speeds them to market.  
About the OFRN  
The OFRN has the mission to stimulate Ohio's innovation economy by building statewide university/industry research collaborations that meet the requirements of Ohio's federal laboratories, resulting in the creation of technologies that drive job growth for the State of Ohio. OFRN is managed by Parallax Advanced Research in collaboration with The Ohio State University and is funded by the Ohio Department of Higher Education. 
OG image