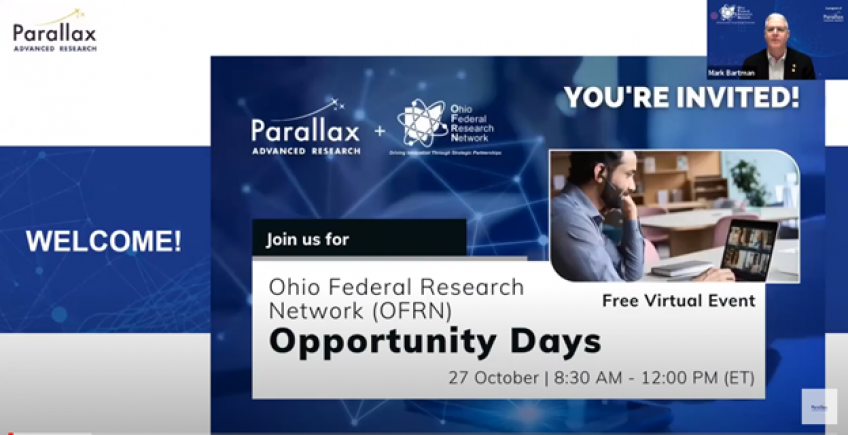 Body
On October 27, 2022, the Ohio Federal Research Network (OFRN) hosted a virtual Opportunity Day in collaboration with Parallax Advanced Research, The Ohio State University, and the Ohio Department of Higher Education. The OFRN Opportunity Day was geared toward Ohio government, academic, and industry innovators and researchers, and anyone interested in collaborating on innovation to solve government challenges.  
The OFRN Opportunity Day featured networking, an OFRN program overview, presentations from government thought leaders, and a discussion with Q&A on state and federal R&D funding opportunities.  
The goal of the event was to enable industry and academia to win new R&D business for Ohio, to help a minimum of 1 to 2 teams pursue the opportunities presented at the event, and to position OFRN as a key R&D collaborator for the State of Ohio.  
Download the consolidated event PowerPoints from all speakers, here.
The following is the breakdown of the event agenda. 
Welcome! OFRN Overview & Program Goal  
Mark Bartman, Major General (Ret.) advisor to Parallax Advanced Research and supporting OFRN, was the event emcee. He was the Adjutant General for the Ohio National Guard from 2015 to 2019 and a member of former Ohio Governor Kasich's Cabinet.   
Edward (Ned) Hill, Ph.D., Professor of Economic Development John Glenn College of Public Affairs City and Regional Planning Faculty, Ohio Manufacturing Institute, Ohio State 
Dr. Ned Hill is Professor of Economic Development at The Ohio State University's John Glenn College of Public Affairs. He is also a senior research associate of the College of Engineering's Ohio Manufacturing Institute. Dr. Hill's research focuses on the impact of digital manufacturing on corporate investment and workforce strategies. In addition, he researches on regional economic resilience and economic development. 
Mr. Darrell K. Phillipson, Director, Materials and Manufacturing Directorate, Air Force Research Laboratory (AFRL) & Dr. Bill Bernstein, Branch Technical Advisor, Digital Manufacturing and Supply Chain Branch in the Manufacturing and Industrial Technologies Division of the Materials and Manufacturing Directorate at AFRL 
Mr. Darrell K. Phillipson, a member of the Senior Executive Service, is director of AFRL's Materials and Manufacturing Directorate. In this capacity, he leads the Department of the Air Force's science and technology programs in functional materials, structural materials, manufacturing technology, and systems support for advanced, next-generation space, missile and aircraft applications. 
Dr. William Z. Bernstein is the branch technical advisor of the AFRL's Digital Manufacturing and Supply Chain Branch in the Manufacturing and Industrial Technologies Division of the Materials and Manufacturing Directorate. He leads the Advanced Manufacturing Technologies ManTech product portfolio, which is comprised of the additive manufacturing, digital enterprise, and future factory programs. He is also a part of the RX Digital Manufacturing Research Team, which internally addresses challenges faced by the Air Force and Space Force services. 
Dawn C. Emerson, Chief of Communications & Intelligent Systems Division, NASA 
Dawn C. Emerson is chief of the Communications and Intelligent Systems Division at the National Aeronautics and Space Administration (NASA) John H. Glenn Research Center in Cleveland, Ohio. She is responsible for leading and managing all research and development in the competency fields of advanced communications and intelligent systems for application in current and future aeronautics and spaceflight systems. Ms. Emerson has 37 years of experience as a researcher and development engineer and a manager of multiple organizations. 
Q&A session with OSU, AFRL, and NASA 
Watch the full session here. 
State and Federal Funding Opportunities Briefing by Parallax's Director of Strategic Development, Matt Bush 
Before joining Parallax, Mr. Bush was the principal director of the Special Operations and Combating Terrorism office at The Pentagon. He's also a U.S. Army Reserve Intelligence Officer, supporting the Department of State with coordination of DoD operations and activities.  
The state and federal funding opportunities covered included those from: 
Conclusion 
We want to thank our audience for their support and fruitful conversations and the event speakers for their engaging presentations.  
Next steps  
Join us at upcoming OFRN events. Stay tuned for more information by subscribing to our newsletter, here.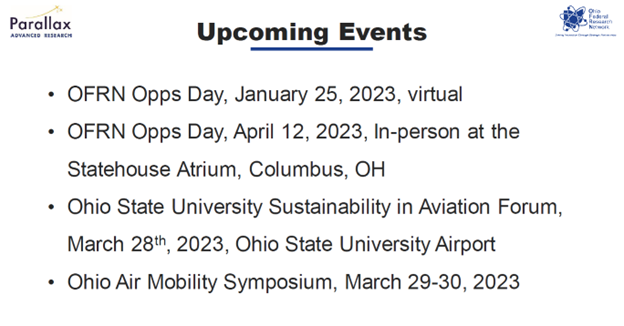 OG image