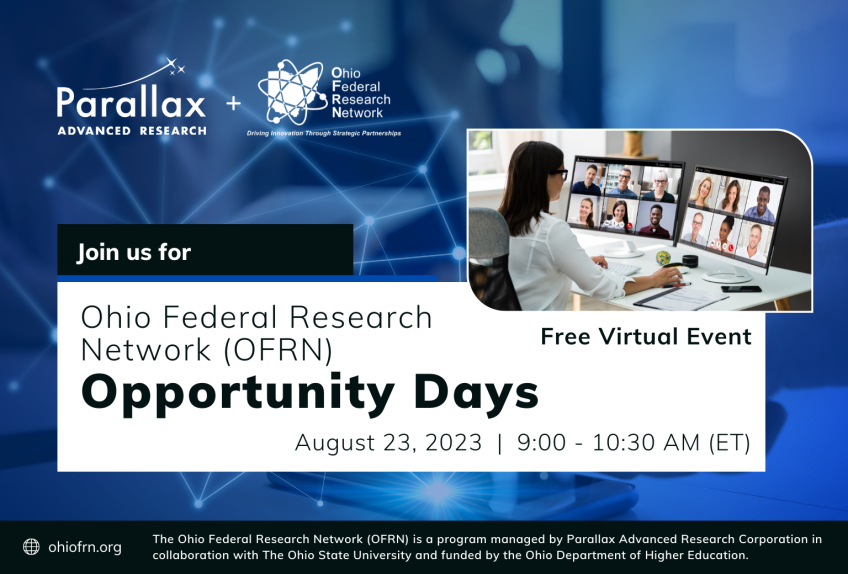 Body
On August 23, 2023, the Ohio Federal Research Network (OFRN), managed by Parallax Advanced Research in collaboration with The Ohio State University and the Ohio Department of Higher Education, hosted a virtual Opportunity Day where Ohio government, academic, and industry innovators and researchers learned about current R&D opportunities concerning digital engineering. The event featured an OFRN program overview, presentations from government thought leaders, and a discussion with Q&A on federal R&D funding opportunities.  
The goal of the event was to enable industry and academia to  
Understand new R&D opportunities to win R&D business for Ohio 

Pursue the opportunities presented at the event 

Position OFRN as a key R&D collaborator for the State of Ohio 
Event recap: Download the consolidated event PowerPoints for all speakers, here.
Welcome! OFRN Overview & Program Goal  
Mark Bartman, Major General (Ret.), VP for Advanced Development at Parallax Advanced Research supporting the OFRN. He was the adjutant general for the Ohio National Guard from 2015 to 2019 and a member of former Ohio Governor Kasich's Cabinet.   
Ms. Alexis Bonnell, Chief Information Officer and Director of the Digital Capabilities Directorate of the Air Force Research Laboratory (AFRL) 
Ms. Bonnell is the Chief Information Officer and Director of the Digital Capabilities Directorate of the Air Force Research Laboratory, the primary scientific research and development center for the Department of the Air Force. She is responsible to develop and execute the AFRL Information Technology strategy, leading the strategic development of highly advanced next generation technologies and platforms for AFRL. Her focus includes catalyzing the discovery, development, and integration of warfighting technologies for air, space, and cyberspace forces via digital capabilities, IT infrastructure and technological innovation across the lab's operations and culture.  
She was one of the first employees of the Internet Trade Association, contributing to the early development and growth of the digital landscape. She has served in challenging environments, including warzones with the United Nations to support over $1B of critical DOD operations in Afghanistan, Iraq and many other operational theaters. She has contributed to dual-use technology and innovation culture across the DOD Innovation community including: AFWERX, AFRL, Kessel Run, NavalX, Marine Innovation Unit, Army Futures Command, DIU, Army Software Factory, DARPA and more.  
Mr. Robert T. Dirgo, Senior Program Manager at the Ohio Aerospace Institute (OAI) and lead of the DRIVE Consortium 
Mr. Dirgo is a senior program manager at OAI.  He leads the new business development efforts and manages the Air Force the DRIVE Consortium, which is chartered with meeting the objective of digitizing the Air Force. Mr. Dirgo has more than 37 years of experience in the aerospace industry working for Meggitt, before coming to OAI. While at Meggitt he had global responsibility while holding senior leadership positions for the last 12 years, serving as the Director of Quality, Director of Continuous Improvement and Director of Strategic Innovation and Government Affairs. As Director of Strategic Innovation and Government Affairs, he established an innovation process that drove impactful new business development innovations to advance the industry and was himself an inventor. As Director of Continuous Improvement, he helped develop the Meggitt approach to Operations Excellence, known as the Meggitt Production System. As Director of Quality, he managed Quality for the global operations and drove the business to achieve world-class levels of quality, which he documented in a book that he published titled, "Look Forward Beyond Lean & Six Sigma."  
Opportunity Review with Steven Price, OFRN Associate  
Steven Price is an associate with the Ohio Federal Research Network (OFRN). He supports OFRN by connecting academic, industry, and federal partners to collaborate on government areas of interest. Steven began working with OFRN during round 6 opportunities, where he successfully assisted the team by reaching out to more Ohio academic institutions, leading to higher proposal involvement. 
The funding opportunities covered during the Opportunity Day include:  
AFRL Rocket Lab Hermes - Solicitation #: FA9300-20-S-0001 

Robust and Efficient Computing Architectures, Algorithms and Applications for Embedded Deep Learning - Solicitation #: FA8750-19-S-7007 

Advancing Computing Technology and Applications - Solicitation #: FA8750-19-S-7010 
Advancing Systems of Systems Technologies for Rapid Adoption (ASTRA) - Solicitation #: FA8750-23-S-7007 

Artificial Intelligence Cyber Challenge (AIxCC) - Solicitation #: HR0011SB20234-17 

FY24 DoD Multidisciplinary Research Program of the University Research Initiative (MURI) - Funding Opportunity #: FOA-AFRL-AFOSR-2023-0004 

Process Systems, Reaction Engineering, and Molecular Thermodynamics - Funding Opportunity #: PD-23-1403 
All solicitations can be viewed here: https://www.dodsbirsttr.mil/submissions/login  
Conclusion & Next Steps 
Thank you to the attendees for supporting this event and engaging in fruitful conversations. Thank you also to the event speakers for their insightful presentations.  
Join us at upcoming OFRN events. Stay tuned for more information by subscribing to our newsletter, here.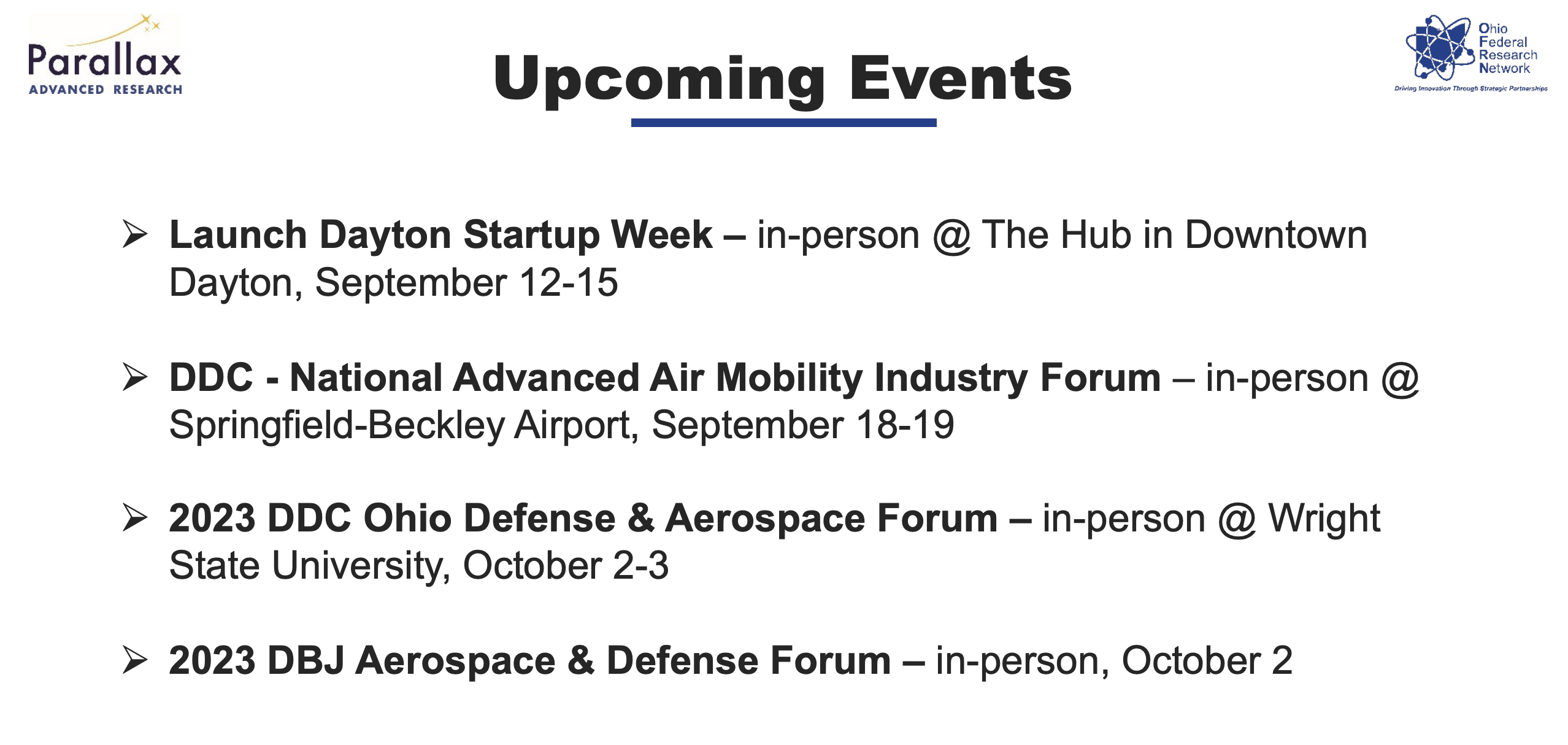 OG image