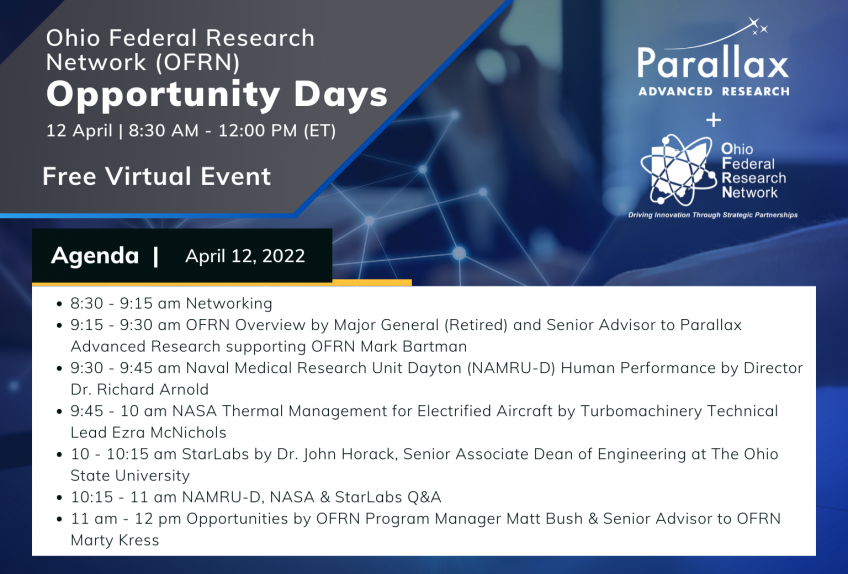 Body
Ohio small businesses and academia are invited to participate in a webinar covering federal research and development funding opportunities provided by the Ohio Federal Research Network
What: The OFRN Opportunity Day is a virtual event that will feature networking presentations from NASA, AFRL and StarLabs thought leaders, a review of open federal R&D funding opportunities, and a discussion with Q&A with agency thought leaders.
Who: The Ohio Federal Research Network Opportunity Day is hosted by Parallax Advanced Research in collaboration with The Ohio State University and the Ohio Department of Higher Education.
Why: The OFRN aims to help Ohio industry and academia to win R&D business and bring funding to Ohio; help select companies and academic researchers successfully pursue proposals; and build effective, innovative, and collaborative relationships among Ohio's academia and industry to advance aerospace and defense research and technology development across the state.
Who should attend:  Government, academic, and industry innovators in Ohio as well as anyone interested in collaborating on innovative ideas to solve government challenges.
When: Tuesday, April 12, 2022, from 8:30 am to noon ET. The following is the agenda in ET:
8:30 to 9:15 - Networking
9:15 to 9:30 - OFRN Overview by Major General (Retired) and Senior Advisor of Parallax Advanced Research supporting OFRN Mark Bartman
9:30 to 9:45 - Naval Medical Research Unit Dayton (NAMRU-D) Human Performance by Dr. Richard Arnold, Director
9:45 to 10 - NASA Thermal Management for Electrified Aircraft by Turbomachinery Technical Lead Ezra McNichols
10 to 10:15 - StarLabs by Dr. John Horack, Senior Associate Dean of Engineering at Ohio State.
10:15 to 11 - NAMRU-D, NASA & StarLabs Q&A
11 to 12 - Opportunities by OFRN Program leadership
Where: Virtual, Zoom meeting. Register here: https://parallaxresearch-org.zoomgov.com/meeting/register/vJItdOCsrTMrHKSq7frXFNoIpyG_wu8zJaw
###
OG image