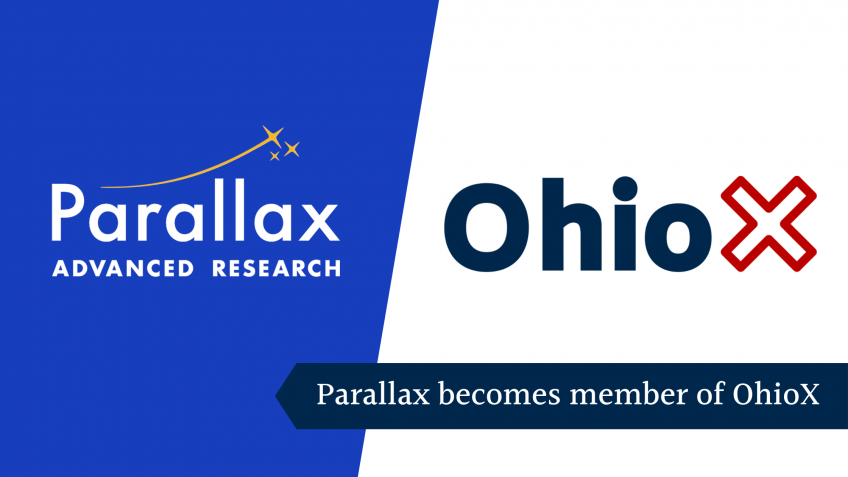 Body
Parallax Advanced Research is now a member of OhioX- a nonprofit membership organization that represents and connects organizations committed to growing Ohio's economy through technology and innovation.  
Parallax Advanced Research's Ohio Federal Research Network, or OFRN, will also play an active role in the membership because it is a State of Ohio-focused research and development program with the mission to stimulate Ohio's innovation economy by funding R&D projects that meet federal laboratory requirements and build statewide university and industry collaborations. 
OhioX members include companies and organizations of all sizes, each committed to promoting growth of technology and innovation in the state of Ohio. OhioX members also help to advance OhioX programs, including: 
Ohio Tech Day- a day-long event that inspires Ohio's high school students: our next generation of leaders in tech and innovation 
Future of Tour- a statewide series that examines and promotes the future of industries and sectors across Ohio 

Tech Tour- a statewide series that examines and promotes the vibrant technology and innovation ecosystems which exist in the Buckeye State 

Tech Policy Summit- a networking event featuring presentations and discussions led by elected officials, policymakers, and tech-focused leaders from both the private and public sectors. Event topics include Data and Analytics, Cybersecurity, Growing Ohio's Tech Workforce, Innovation Districts, Emerging Technologies, and more 
Parallax Advanced Research and its OFRN program look forward to participating in OhioX events and connecting with new collaborators to continue the state-wide effort of accelerating innovation in Ohio. 
###
About Parallax Advanced Research  
Parallax is a 501(c)(3) nonprofit that tackles global challenges by accelerating innovation and developing technology and solutions through strategic partnerships with government, industry and academia across Ohio and the Nation. Together with academia, Parallax accelerates innovation that leads to new breakthroughs. Together with government, Parallax tackles critical global challenges and delivers new solutions. Together with industry, Parallax develops groundbreaking ideas and speeds them to market. 
OG image