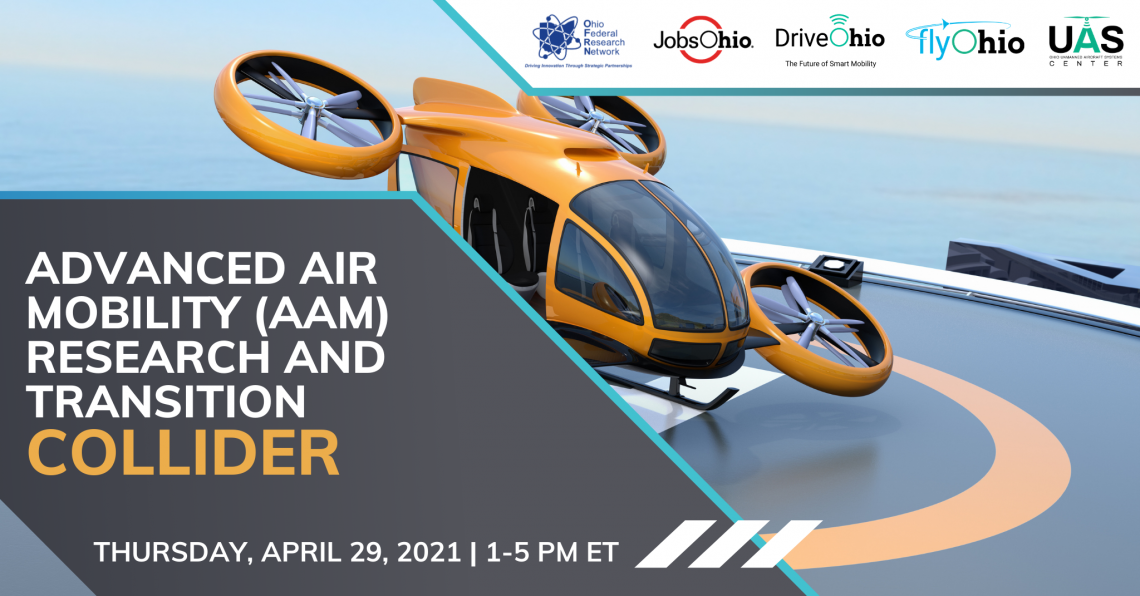 Event status
The Advanced Air Mobility (AAM) Research and Transition Collider hosted by the Ohio Federal Research Network (OFRN), Ohio Department of Transportation (ODoT) and JobsOhio intends to connect Academia, supply chain vendors and Original Equipment Manufacturers to innovative AAM-related research and development conducted across Ohio.
(For Industry) Ohio is poised, due to the many years working with Unmanned Aerial Systems and related technologies, to lead a third revolution in flight – Advanced Air Mobility. Ohio's investments –which include the Ohio Department of Transportation/FlyOhio, Ohio UAS Center, SkyVision, the Ohio Federal Research Network, remote towers, UAS Traffic Management, etc.– have secured Ohio's prominence as a leader in AAM. Ohio-based AAM related companies and technologies will be represented at the AAM Research and Transition Collider and will participate in virtual booths where they will be open to networking, answering questions and discussing partnership development opportunities. Join our Collider to connect with Ohio AAM leadership and learn how to collaborate on the statewide AAM strategy.
(For Academia) The Advanced Air Mobility (AAM) industry represents growth and attraction of many new jobs to Ohio, including but not limited to research and development and science and technology innovation; testing; manufacturing; maintenance, repair and overhaul; pilots and operators. The next generation of AAM expertise and innovation has been developed at Ohio's state-of-the-art science, engineering and research universities, which rank among the best research universities in the United States. These universities will be represented at the Collider and will provide attendees, such as companies seeking academic partnership in the process of AAM research and development and science and technology innovation, the opportunity to connect and discuss potential collaborations and team matchmaking. Join this event to connect with Ohio's academic leaders to discuss everything under the sun regarding AAM, including Airspace Management, Command & Control, Communications, Power & Energy Storage, Propulsion, and Sensors & Awareness!
This collider will also feature a virtual booth where companies, government entities, academic researchers, individual innovators, and entrepreneurs can register to feature their capabilities and connect with other participants. This virtual booth registration is free, and spots are limited and granted on a first come first serve basis. Development and management of the virtual booth is the responsibility of the participant.