About project
Background
The Advanced Cognitive and Physical Sweat Biosensing project funded by the OFRN sought to make Ohio the leader of sweat biosensing through academic partnerships and industry and federal partners. The University of Cincinnati developed and tested new technology in sweat devices. The University of Toledo developed new sensors for glucose, urea, and ethanol.  The Ohio State University. was directed to look into new analytes in sweat. Eccrine Systems led the commercialization efforts of the new developments.   
Commercial Goal
The project resulted in at least five new technologies, six publications, 14 invention disclosures, and one startup company. The final demonstration included in-vivo testing of ethanol comparing blood to sweat correlation providing Eccrine Systems a commercial advantage for leading the industry in sweat monitoring. 
The project created an estimate of nine jobs and brought approximately $1M in follow-on funding. Patented technology also produced a startup company, Amplify Sciences, which has attracted investor money and was positioned to develop new diagnostic tests for influenza.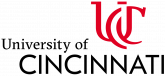 Project lead
The University of Cincinnati
OG image