---
The OFRN's Research Projects
The OFRN research Centers of Excellence (COE) and Sustaining Ohio's Aeronautical Readiness and Innovation in the Next Generation (SOARING) Initiative were developed after thorough review of the strategic plans and priority planning documents of the Air Force, DoD, NASA-GRC and State of Ohio as well as through an iterative review of and briefings on federal requirements provided by AFRL, NASIC, NAMRU-D, and NASA-GRC.
COE-led projects were designed to build collaborative partnerships among leading Ohio-based public and nonprofit research organizations, forward thinking businesses and federal laboratorieis. COE projects include rounds 1 and 2.
SOARING projects leverage Ohio's unique aerospace assets to assist recipients in overcoming critical technical barriers and business challenges to enable more widespread adoption of unmanned aerial systems (UAS) into the national aerospace.  SOARING research projects include rounds 3 - 5.
COE and SOARING research topics include:
Quantum Communications, Cyber, Position, Navigation, and Timing

Command, Control, Communications, Computing, Intelligence Surveillance and Reconnaissance 

Power & Propulsion​

Energy Storage & Integration​

Human Performance, Human Factors & Health Sciences​

Materials & Manufacturing​

Personal Air Vehicles (PAVs)​, Unmanned Aerial Systems (UAS),​ Unmanned Aerial Vehicles (UAVs)​, Heavy-lift Logistics Delivery Vehicles (LDAVs), and Electric Vertical Takeoff and Landing Vehicles (eVTOLs)

Artificial Intelligence & Data Analytics

Space Commercialization

Advanced Power Systems
---
The OFRN Research Projects Infographic
This infographic illustrates each of the OFRN-funded research projects to date and where they align in application. You can download this interactive PDF, here.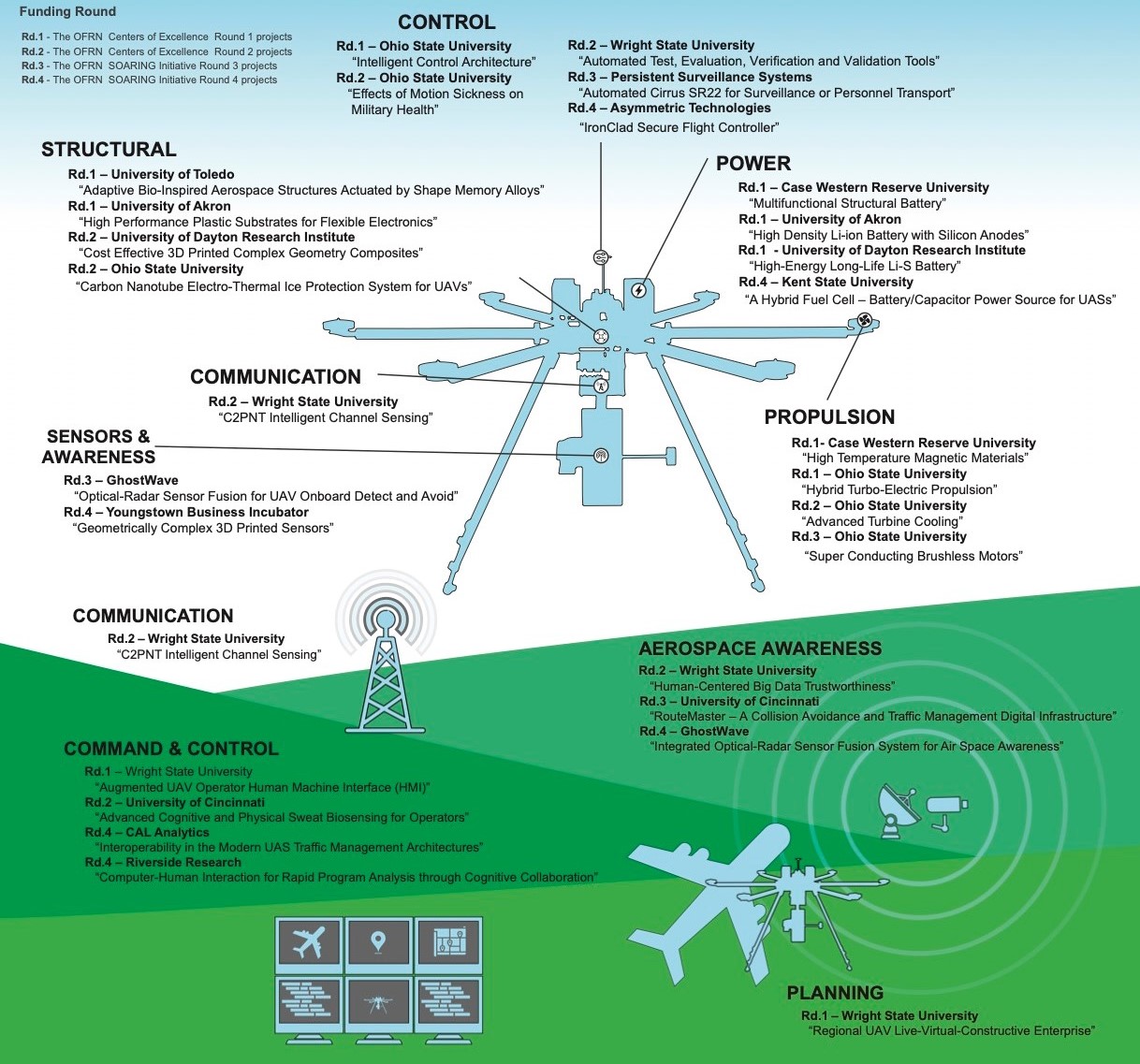 The OFRN Project Portfolio